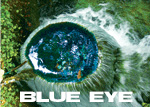 Blue Eye, Delvina
It is one of the most beautiful natural attractions of all
Albania
. Here we meet together the pure-crystal water, the green old trees, the fresh air and the healthy climate, witch make this place very frequented, 365 days of the year. The Azure Eye is situated 18 km in the northeast of Saranda. The legends about this place are numerous but the most famous is that of the beautiful girls witch became sacrificed to the divinities to keep the water and give it pure. The daily tourism is very developed here, because of magic
environments around the Azure Eye.
The most recommended accommodation structure is the city of
Saranda
but if you want to enjoy more than a day at the Azure Eye, there is a small and nice tourist village, with small woody villas, bar, restaurant and entertainment environments. The restaurant offers the fresh fish of the sea and also the Mediterranean cuisine. It is famous the mussel of Butrinti.