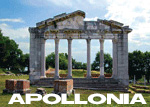 Apollonia Archaeological Park
Situated only 10 km west of the city of Fier, Apollonia can be reached very easily. Only 10-15 minute ride by car from Fier. Through the small Myzeqe appear before a series of hills, at the expense of which is the ancient city. Precisely here is the "mine" or the richest and largest archeological Albanian site, which in itself saves a piece of what has been discovered to date, it takes only 3-4 hours to visit it with your eyes. This is Ashdod, where millions of ceramic debris everywhere accompany the "throw" t.Since 2005, this archaeological site of Apollonia Albania functions as a national archaeological park, and is open to be visited by home and foreign tourists.
While held there every summer archaeological expeditions, which together with the museum and the medieval monastery, create all the conditions, that this "ancient city" can develop an authentic cultural and historical tourism, adding the relaxing and beautiful nature of the surrounding landscape. And each of them who are coming here for the first time, or many times, can not have a clue, how monuments have been in Apolonia, when the archaeologist pickaxe had started knocking on the ground. Precisely this fact will treat for you dear reader in the writing of history today with the object of the development of archeology in Apolonia
The monastery of Apolonia can only bothering people passionate who pay attention to archaeological treasures, collectors and those who collect rubble for construction stones. The first missionaries cared for more descriptions and values meeting than to carry out of archaeological cultural studies. Apolonia in 1806 was visited by Deputy French Consul François Pukëvil from the way of Ioannina. Everything he saw as relics, reliefs, coins and relics, he described in his book, "Traveling around Greece, published some years later in Paris in 1821
Founded in the VI century BC by settlers of Korkyra, the ancient city of Apollonia was as important to the period when flourished, as it was even Dyrrah of Butrint. Apolonia was an important trade center of ceramics production, work tools, decorations, and other trade facilities. The town was developed in the suburbs outside Craftsmanship and his growing crops, vineyards, olives, fruit trees and livestock.
Apollonian had its coins which has circulated until around the years 30-25 BC and their turnover of cross borders of Apollonia, stretching up to Amantia and Lissus,