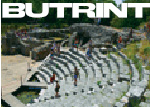 Butrinti Archaeological Park (UNESCO)
We are already in the most southern corner of Albania, there where is hidden among the hills and washed from the blue waters of the Ionian Sea, one of the most beautiful seaside towns. We are talking about Saranda, as a pearl of the Albanian Riviera.
The town has always served as port for the Mediterranean countries, but has been not so important as a trade centre, because, another town was important during the ancient times. This town was Buthtrotus.
Travelling south from Saranda, along a panoramic road by the rocky shores and marshland, you reach the archeological sity of Butrint, the most important in Albania, protected by UNESCO. The antique city of Butrint was first inhabitated by the Illyrians. Its name derives from the bull (gr. Buthrotos) that the troyan prince, Enea, sacrificed here, on his way to the Temple of Dodona to assure safe passage. The most significant archeological objects are the amphitheatre of Buthrotus, where since sixt years is the place of the International Festival of the Theatre, organized from albanian artists, the temple of Aesculapius, the altar of baptims, mosaics, thermal baths, walls and antique entrance to the city. There is also the medieval castle of Ali Pasha, thas houses the Museum of Buthrotus. From the castle, you can see the landscape, one of the mos untouched and antique of the whole Mediterranean.