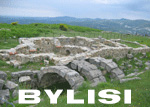 General Info
Albania is rich in historical value and cultural heritage cities, museums, archaeological parks, castles, bridges, churches and monasteries, mosques, mausoleums, masjid and popular dwellings. The valuation on them started since in 1948 until today. As cultural monuments protected by the state cult objects we count 169, 2000 traditional houses and about 400 castles.
Among them we can mention the museum towns of Gjirokastra and Berat, assessed by UNESCO as part of ''World Heritage''. This list included also the National Archeological Park of Butrint.
Inalienable value and historical architectural also carry other archaeological parks, from which they can mention: Shkodra, Lezha, Apolonia, Byllis, Amantia and Oriku, Antigonea, Finiqi, Albanopoli, etc..
By Irirjan Gjika - Historian