Fieri General Info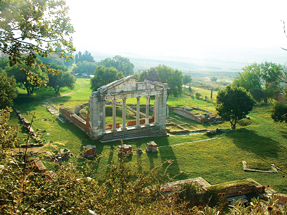 Fieri district is located in the Western Lowland of Albania and its cities, winding up in Fier, Patos and Roskovec. Naturally Fier is an important point of cultural tourism because there is Apollonia archaeological park. But apart from this important point very well frequented by foreigners, Fieri has a favorable geographical position to develop environmental tourism, water, sea, lagoon, river and of course historical and cultural. Located edge of the Adriatic Sea, bordering the east Berat, Lushnja to the north, of Vlora in south, Mallakastra in the southeast, the district is an important administrative and economic, as well as a highly visited tourist destination.
Landscape and Climate
With a relief, flat-hilly, Fieri has mild Mediterranean climate with hot summers and mild wet winters, which revolves around annual temperature 15 ° C, and about 1000 mm rain per year. Fier hydrography is represented by three rivers Seman, Vjosa Gjanica, and several channels of watersheds.
History
The earliest traces of housing in this region are faced in Kryegjatë and Portezë. The urban life began with the construction of Apollonia, at the end of the VII-eth century B.C. the colony of income from Corinth. Apolonia was developed as a commercial center with stable economy, with its currency, with a ruling system, with strong traces of Illyrian element in lifestyle. The town has also a rich cultural and artistic inheritage. The Emperor Octavian Augustus, studied at Apollonia. Other ancient settlements around Fier are Margellici, Gurezeza, Krapsi, the Clamp of Muzakaj etc.
Fieri has been a very active city in decisive periods of history, for example, during the Ottoman occupation, Independence, XX-eth century etc. The period of communism, profiled Fier in an industrial-agricultural city. The villages and underwent in cooperatives and the city workers was positioned in the oil industry and fertilizers.
Today, Fieri is a city with a successful business profile, not only in his district but also throughout Albania.
Culture and ethnography
Fieri has an early tradition of cultural and sports. Since 1924 were created the cultural society "Apolonia", "Myzeqeja","Balkan"etc., where many dignitaries were activated Fier. The tradition of art and literature publicistikës originates since 1750 to "couch" of Nezim Frakulla. A branch of the Writers and artists has continued its activity in the city, private electronic media operate today, various newspaper publications, an info-guide for the city, a major online portal where all information transmitted Fier region etc..
Fieri has a similar ethnographic tradition with all Myzeqe area. Men dress in cloaks, shirts leave white felt white hat, black pens, cow leather shoes. For holidays or weddings, kilts and used on them a doublet.
Women used three types of long dresses, white handkerchief, embroidered with decorative motifs, put on it a color vest, decorated with traditional motifs. Nowadays, these clothes come used only in artistic events, menawile in the normal life, they use contemporary clothes. Popular outfits in this area are widely used by the 60s, of the last century.
Folk dances and songs are mainly motivated by Myzeqe area, accompanied by folk instruments, but sometimes the phenomenon of "iso", different from the polyphony of Laberia region, is present too.
Tourism resources
Fier coastline is about 48 km, and extends through the villages Seman, Povelçë, Ndërnënas, , pine-Poro and Darzezë. Estuaries of Seman, Vjosa and Shkumbini, can be utilized for beach, water sports of hunting, due to natural reserves located nearby. The whole area of Fier on the coast, in the Lagoon of Gjemia, Dëllinja lake, the bog of Laçaj, the small lake of Sllaniku, the Bay of Seman, is quite unused, and the civilization or the constructions have not yet reached, leaving ecologically clean a valuable resource for the use of nature tourism. Maritime pines, the Godulla lagoons, river's deltas, the clean sand, the hot sun, the clean air and healthy nature, are a powerful potential future development of tourism.
Accommodation and gastronomy
Inside the city you can stay in hotels, as Shkelzeni, Grand Hotel Leone, Hotel Fieri, which provide you the necessary conditions for a comfortable stay and the services you need, on average for a three-star category. Along the national road Fier-Vlore, can be housed in the Hotel Europa, and when you get the Fier-Ballsh-Gjirokaster road, can stop at Hotel Silvi,. Gjanica complex, etc. The area of gastronomy is quite tasty, it can be tried in restaurants outside the city, where in addition to international cuisine, you will also find traditional dishes, the village birds, eels, wild birds and other traditional dishes. We recommend that you stop to Kaçi restaurant for its famous baking-pans, to Irna for good cuisine and environments full of greenery, to Safari Park, for cooking and above all for his rich garden zoo, can be a fun guaranteed to children and adults.
What to visit
Apollonia Archaeological Park is a tourist face of this city, which currently attracts many visitors for having multiple values. Founded in the VI century BC by settlers of Korkyra, the ancient city of Apollonia was as important to the period when flourished, as it was even Dyrrah of Butrint. Apolonia was an important trade center of ceramics production, work tools, decorations, and other trade facilities. The town was developed in the suburbs outside Craftsmanship and his growing crops, vineyards, olives, fruit trees and livestock.
Apollonian had its coins which has circulated until around the years 30-25 BC and their turnover of cross borders of Apollonia, stretching up to Amantia and Lissus.